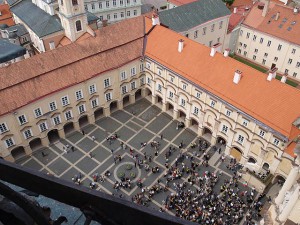 Vilnius University (VU) is the oldest and largest higher education institution in Lithuania, founded in 1579. VU seeks to ensure that the quality of all forms of studies conforms to modern culture and technologies and pertains to the needs of the state and society. One of the core aims of VU is to initiate and actively implement projects of value for economic development of the country and region, which would encourage effective co-operation with business sector and create favourable conditions and environment for innovations and entrepreneurship.
VU is one of the founders and active participant in the activities of "SunriseValley" organization aimed at promoting knowledge intensive activities, entrepreneurship oriented education and improvement of industry and higher education cooperation.
VU has also established The National Open Access Scholarly Communication and Information Centre (SCIC), which is the centre of communication between scientific research and studies, scientific research and business, business and studies.